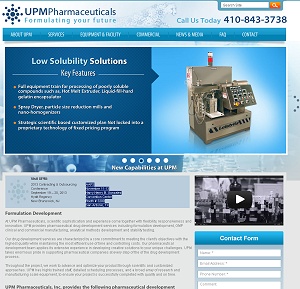 UPM Pharmaceuticals, Inc. is a cGMP and drug formulation laboratory within the University of Maryland School of Pharmacy. Some of their specialties are Drug Development, Solid Dosage Forms and cGMP Manufacturing. UPM Pharmaceuticals is a true leader in industrial pharmaceutical education and innovation. This company, funded an FDA contract in the early 1990s, was created to assist the development of guidelines of Scale Up & Post Approval Changes (SUPAC). Later it became an independent provider of cGMP manufacturing, contract formulation development and analytical services. UPM Pharmaceuticals is always committed to high quality performances thanks to the experience and talent of their team.
 UPM Pharmaceuticals is focused on drug development in solid dosage forms (i.e. tablets and capsules) and oral dosage forms. UPM has recently joined some important Conference and events in US to present their products. The first conference –  2013 Contracting & Outsourcing Conference – has been held New Brunswick, NJ on September 19 – 20, 2013. The second event – AAPS ( American Association of Pharmaceutical Scientists ) – was held in San Antonio, TX  on November 11-13. For more information about UPM Pharmaceuticals please visit the following website: http://www.upm-inc.com/ or contact Mr. Frank Sorce –  representative for Northeast US (NJ, PA, NY, CT, RI, VT, MA, NH, ME, DE), by writing to Sorce@upm-inc.com or calling 973-765-0131
Their relationship with The University of Maryland School of Pharmacy and their dedication to the development of manufacturing technologies and advanced formulation allow them to offer a very high level of customization remarkable compared to other contract manufacturers and competitors. UPM Pharmaceuticals Inc. history includes many collaborative relationships with small to multi-billion dollar companies, offering  them extremely customized formulation development solutions and services.